Last week was vacation. Whoohoo! I got to spend Monday through Thursday with my Mom, sister, Mamaw, Aunt Pam and Aunt Jenny (and Rylie too!). We went to our favorite vacation spot in the world! Pensacola. This year we stayed in a new spot and it was amazing. RIGHT on the beach....which was good for my Mamaw. At 85 years old, she really couldn't make it down to the beach, but she layed out on the back porch and felt so close to the beach. Rylie did good the first 2 nights...the last night was awful...but at least she napped good. I don't know if it was the ocean air or what?!
Just look at this view!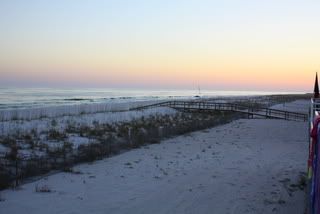 Rylie didn't love the beach. The first day she got sunblock in her eyes and was nearly blind for an hour or two! Poor baby!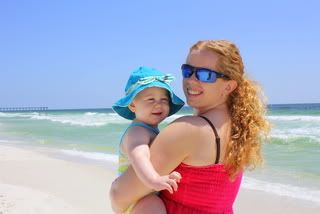 She played on the beach for awhile though. She loved the wind!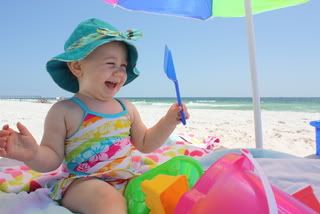 I did miss my husband something fierce though. Thank God for Skype! I don't know what was wrong with me. I tried not to stress out about the eating down there. I usually eat generally healthy though. I indulged in sharing a few desserts with everyone and I stuck to grilled fish when we went out to eat. YUM. We had amazing fish tacos at Surf Burger!
At the food co-op in Pensacola I scored some healthy finds. Spicy roasted pumpkin seeds, Ezekial wraps, Pirate's Booty chips, quinoa, Lara Bars on sale and some cool baked goods. When I got home I made a egg white/kidney bean omlette and put it on an ezekial wrap. YUM.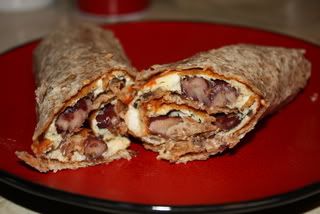 I also HAD to make a Green Monster. I've been reading about them on this website:
Oh She Glows
. I was skeptical. 2 cups of spinach in there and you don't taste it? It's supposed to give you amazing energy and make your skin and hair glow! It tasted AWESOME! Mine had a frozen banana, 2 cups spinach, 1 cup vanilla almond milk, 1 tbsp flax meal. I paired it with a Clif Mini SO filling and yum.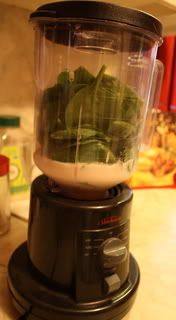 This blended into this: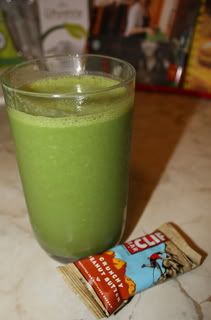 Well, I have a grumpy baby that needs to be changed. Today's plan is to workout, clean up a bit and wrap my sister's b'day present. Oh, and I turn 29 tomorrow! How'd that happen? I feel so young! I wanna stay in my 20's forever! I leave you with this image on Monday...this is how I feel about turning 29!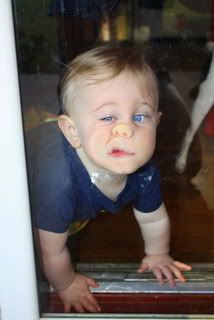 Have a great Monday!