I'm finally feeling like Spring is in the air! We've had beautiful weather this week...the kind that makes kids at school stir-crazy and the kind that makes you just want to be outside all the time! My azaleas are blooming, the birds are chirping and I'm pulling out all the short sleeved shirts I own. My weight loss efforts are sort of stalling out a little. While I've been eating right and exercising I'm just sort of not into it this week. I realize though, that no matter what, I'm being healthy. So what if I eat a WHOLE Lara bar. They have like 2 ingredients in them...it's a vegan bar...sure it's higher in calories...but I was hungry and it's good for me. I get down on myself if I don't drink enough water or eat twice as much fruit as I intended for my snack because I know it's more calories. I'm trying to shift my thinking from calorie nazi to super healthy girl who is losing weight anyways because she's focused on eating REAL food and moving her body most days. It's a hard shift....but I'm working on it.
Here are a few things that I've been eating (that I've remembered to take pictures of).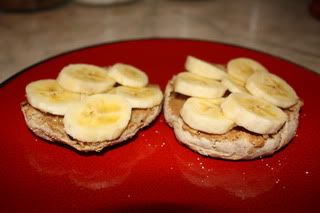 This is my all time favorite breakfast. Whole wheat english muffin, 1 tbsp almond butter, 1/2 a banana. It doesn't make sense how good this is. I have it with coffee. Obviously.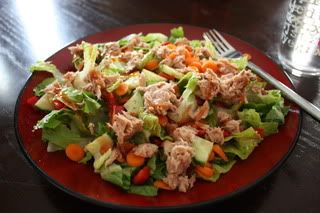 One of my favorite lunches. Romaine, english cucumber, carrot, bell pepper, salt/pepper, 1 can of chunk light tuna in water and 2 tbsp low fat dressing (on this day it was Ken's Low Fat Sundried Tomato Vinagarette). I love salads! I often make this same salad but just change the protien (tuna, chicken or beans of some variety).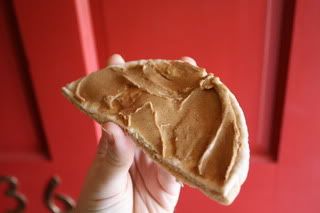 I know I know. Again with the almond butter. This is a great snack though. 1/2 whole wheat pita and 1 tbsp. almond butter. Something about the chewiness of the pita makes this snack SO good and filling.
My girl, she LOVES to be outside. So we've been spending some serious time out in the yard. The front yard is attracting a fair amount of bumble bee's this year though (any idea how to make them go away). Since I'm allergic to them...we've been in the back yard alot.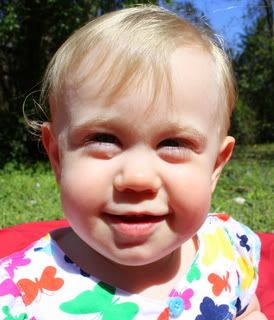 Something about here here...from the eyes down looks JUST like Jason to me.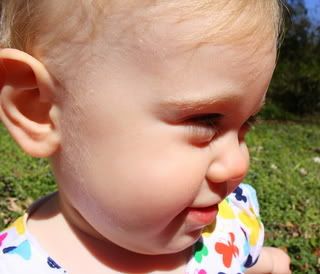 Don't you just want to kiss this luscious little cheek?
I couldn't resist taking pics of her in the bath last night...she's SO freakin cute!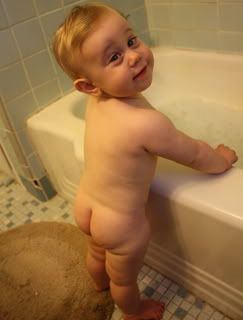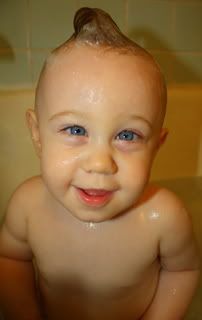 I start making my lists for our trip to FL today...and I'm in for a run on the treadmill too! Have a good day!