My husband is hard to please when it comes to pancakes. He likes them healthy but he doesn't like them to taste healthy. He likes them fluffy but not too cakey. He likes them packed with flavor. After tons of trial and error I came across these Whole Wheat Flax Pancakes. I added a tsp of vanilla and some cinnamon and I found a winner. Make them soon. Plus they have flax in them! It's good for you...just google it! Plus it tastes good!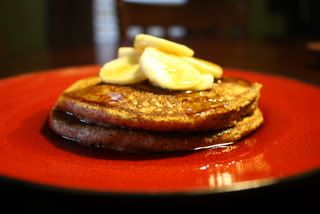 Whole Wheat Flax Pancakes
Ingredients
1/3 c whole wheat flour
1/3 c ground flax seed
1/3 c white flour
1 large egg
3/4 c milk (soy, almond, regular..whatever you like)
2 tbsp canola oil
1 tsp vanilla
1 tbsp brown sugar
3 tsp baking powder
1/4 tsp salt
Cinnamon (however much you like)
Directions
Beat the egg with the milk. Add the sugar, vanilla and canola oil and mix.
Mix all the dry ingredients together. Add to wet ingredients and mix until well combined.
Cook at medium heat on a skillet. Flip after a few minutes, or when the bubbles do not reclose around the edges.
Makes about 8 4-5" pancakes.
Number of Servings: 8