Things are getting a little hectic around here. We have a near epic weekend ahead of us and then I leave for Pensacola, FL on Monday. I'm SO excited to get to spend time with my Mom, sis, Aunts, cousin and Grandma...but I am not liking 2 things. 1. NO clue how Rylie will do in her pack-n-play because she hasn't slept in it in months. 2. I have to be away from my best friend from Mon-Thurs! I'm so totally in love with my husband and I'll miss him! Thank God for Skype =) Pensacola is my favorite vacation spot in the world. I've been going there since I was a baby and it just feels like my vacation home away from home. I'm trying not to stress out about the sleeping situation...she'll sleep *some* right? Plus I have LOTS of help. I wouldn't be so stressed if it wasn't for the fact that Easter weekend is here and I have to fit in family time, church, packing, working out, getting a pedicure, buying some last minute items to pack....the list goes on.
As far as working out and eating goes I'm a little down. I'm stuck between the 12-13 lbs loss mark on the scale. I keep going up and down in that range...I just want to get over the hump and keep losing. I'm sure vacation isn't going to help. All I can do is try to make the best choices I can, workout if I can and enjoy. It's vacation for goodness sake!
Here are a few things I've been eating.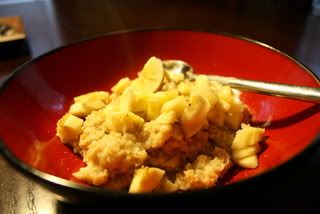 Breakfast: 1 cup water, 1/2 cup oats, 1/2 tabspoon almond butter, 1/2 banana. Off the chain delicious!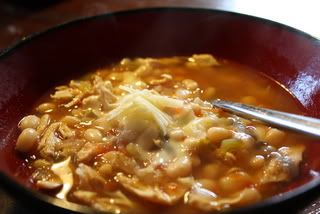 White Chicken Chili. SO yum. I had it for dinner last night and lunch today.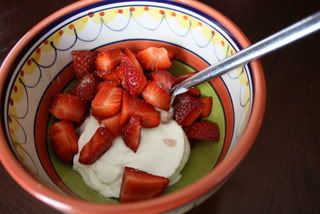 On of my favorite snacks. Strawberry Oikos (only 110 calories and tons of protien), 1 cup sliced strawberries. I always have to share this with my baby because she LOVES it too!
One last pic. Rylie in her Easter Bunny dress. I hope everyone has an awesome Easter! Can't wait to dye Easter eggs tonight!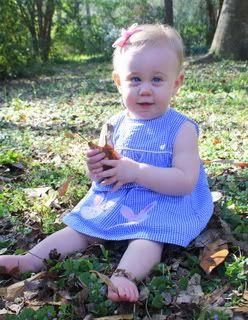 Happy Easter!~