Hi! It's Earth Day! Today our little family spent a little time planting an herb garden. Nothing major, just our fun way of celebrating Earth Day. We're interested in doing what we can to help make Earth a better place to live and we're always looking for ways that we can do better. Here are a few things we do everyday!
No paper plates, paper towels or napkins! Who needs em'!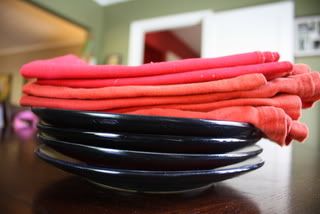 No bottled water! We have a Brita pitcher and the water tastes amazing! I like it better than any bottled water I've ever had!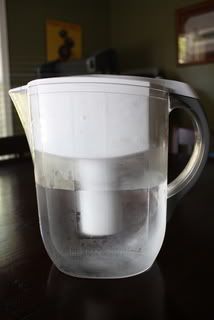 Re-usable containers. We're trying to reduce the amount of plastic bags, tin foil and saran wrap we use. We got a great set at IKEA for$4!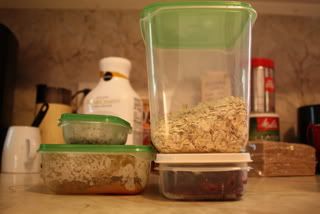 Turn off the lights! Open every window possible. Saves money and energy!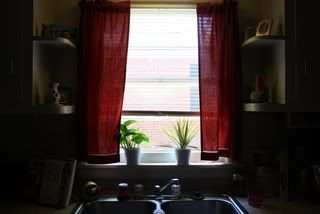 Re-usable bags! This is a hard habit to get into but we're remembering more and more!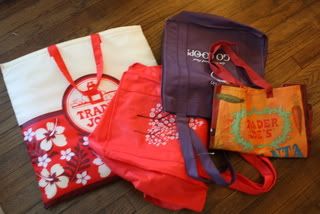 Recycle! Unfortunately our city only takes in a limited variety of items but we recycle anything that they'll take!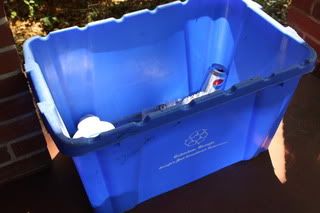 Most of these things are easy and small things add up to make a big difference! I'd love for Rylie to love the environment and all of God's creatures, so we're starting early! This is us planting a small herb garden. This kid LOVES to be outside!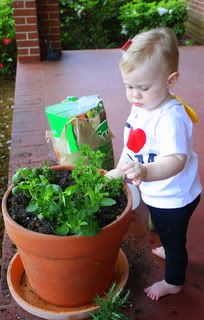 Now for food/fitness! I was a complete grump yesterday because I didn't workout. I was busy, didn't want to make time for it and by 7pm I was just ill. Today I decided to take charge. Planned to get a decent run in while Rylie was asleep. Well, that didn't happen. I was getting angry. Panicking. I decided to calm down and eat lunch...it would happen, just not how I planned. I got her down at 2 and got on the treadmill. I checked the baby monitor when I reached the 5K mark in my run and I could tell she was awake. I was a little sad that I couldn't push it and do 4 miles, but I did get a workout in. Being a parent is interesting. I get SO mad if my expectations aren't met....I just need to realize it's OK. My reality often looks different from my expectations. It's OK.
Here are some recent eats.
Here I am in workout gear with my Green Monster. Energy in a cup.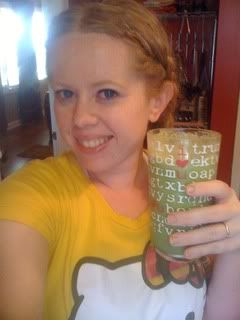 Best lunch ever. Salad with balsamic and a sweet potato with vegetarian baked beans. Salty/Sweet goodness.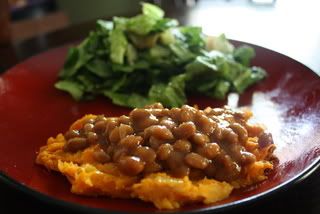 Perfect spring snack. A huge bowl of melon and apple to share with Rylie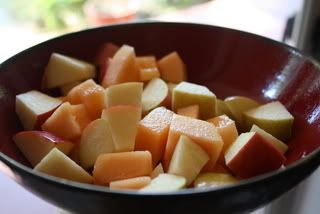 Tomorrow night we go out to eat with my grandparents. Yay! Other than that, no plans this weekend! Yay! Don't you just love weekends?