It's odd for me to say...but I'm now officially in the last year of my 20's. It's gotten me thinking about all kinds of things. What are my goals? Am I creating the life that I want to live? What's my part in this world? How can I contribute and what do I want to put my time and effort in? I'm not completely sure of the answers to all of these questions, but I've got the wheels spinning. One thing I've realized lately is that I'm so excited and passionate about being healthy and spreading the healthy spark and becoming less of an impact on the environment. I get lots of flack from my friends and family that are very right wing and religious about being green and I'm not sure why? I don't want it to take over my life or focus. I just want to do what I can to be a good steward of my little piece of the planet. What's so wrong with that? I tend to be more right than left...but I want to be as green as possible. Is it an oxymoron to be green republican? Anyways. Moving on.
I had a birthday yesterday! We decided on Thai House for our birthday dinner and it reminded me of my first birthday with Jason. We ate at Thai House on that night too...we were engaged and kid free. We had low-pressure jobs. We were planning a wedding. Life was SO different. I didn't think I could love him anymore that I already did....I was wrong. I love him SO much more today! Anyways, here is my beautiful Bug.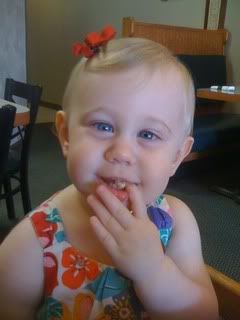 I'm so lucky I get to share my birthday with my twin sister. She's the most beautiful person inside and out. You know when you meet people that are SO pretty and you come to find out that their outsides don't match the insides....not this girl! She's generous, kind, of good virtue and SO strong. I want to have her heart when I grow up.
Here she is with her Matt. They're great.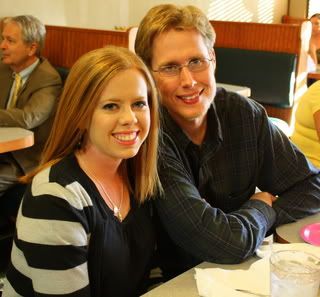 Look at my piece of cookie cake! I tried to eat it all...my eyes were bigger than my stomach. I ate half. Now I'm wishing I'd brought it home. SO divine!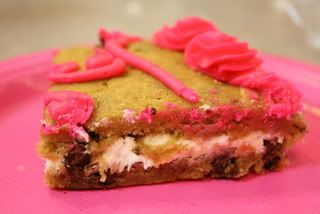 Did I mention my husband? He is the best guy in the world! He got me Jillian Michaels' book In The Cut (tons of exercise circuits and recipes in there), Bethenny Frankel's Skinnygirl Dish (SO many great recipes) and The Biggest Loser's Weight Loss Yoga (I did that today). Oh and 1/2 lb of my favorite flavored coffee, Southern Pecan. Here we are: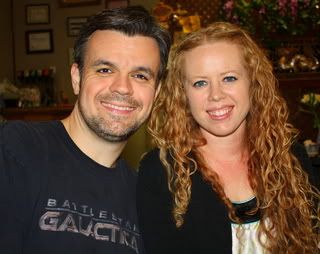 Have I also mentioned how much I love my girl? She and I had a good day yesterday. We went to Target and just looked around. Bought a few things, window shopped for a few other things. She was a good shopper and I just adore her.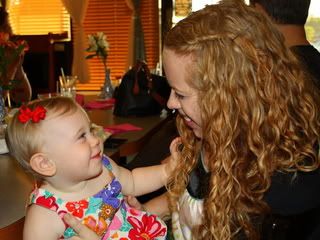 So, like I mentioned, I got Weight Loss Yoga. Yoga is such a different change of pace for me. I usually feel like unless I'm doing aerobics, circuit training or running that I'm not working out. This was a decent workout! I wouldn't do it everyday, but I think it will be a great addition for once or twice a week. I'm entertaining the idea of planning my workout week ahead of time. I am a fly by the seat of my pants kind of girl so I'm trying to wrap my brain around it. I think it'll help me schedule my weeks and I'll feel accomplished.
Ok, Miss Rylie is waking up...time to get going.