Yesterday Amy and I planned a little crafty day. Our plan was to hit Starbucks first (obviously). I had to ask if they could make the Pumpkin Spice Latte iced (since iced coffees don't give me the heartburn of death) and lo and behold...they can! I took a sip and this is what my mind went to immediately: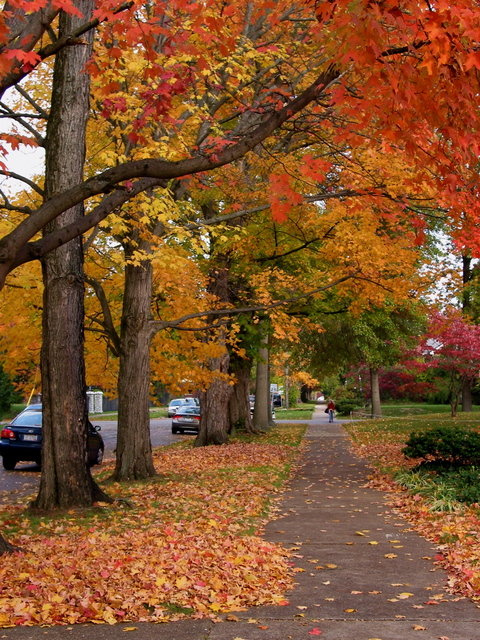 Somehow they figured out how to allow you to TASTE the perfect fall day...yum. The perfect fall day is very SWEET by the way, not that I mind.
After hitting Walmart and Hobby Lobby for supplies we went back to Amy's house and started making Sweet Potato Cupcakes (formerly Pumpkin Cupcakes...but since NO ONE in Columbus has canned pumpkin yet...they're sweet potato and they're perfect). You can find the orginal Pumpkin Cupcake recipe
HERE
and you can find Amy's blog post on making the cupcakes
HERE
. Once the cupcakes were in the oven we layed out the supplies for our pumpkin painting.
Supplies:
6 little pumpkins (these were 78 cent a pound at Walmart)
Metallic acrylic paint. We got black, pearly silver, bronze and gold, all metallic.
Paint brushes. I needed a new set anyways.

Leaf stencils
We used a few google images for inspiration. Including the one from my
Fall Luv
post and painted and painted and painted. We stopped a few times to pull the cupcakes out and I actually had to run and get Rylie from school before I was finished. We got so carried away I forgot about eating lunch and what time it was! Here is the finished product for the pumpkins. Not too bad considering it was my first try at this particular style of pumpkin painting.
I love how shiny the metallic paint stayed even after it dried, and they're so darn cute as decorations for our house! I think they'll last the entire fall season (as long as Rylie doesn't throw them into the floor...she keeps insisting that they're apples!). We have tons of paint leftover so I'm trying to come up with something else to do with it. Suggestions? I love spending time with my sister, especially cooking and crafting with her. Did you see how the cupcakes turned out? They taste as good as they look.
So does anyone have any huge weekend plans? Today we're shopping for a preschool picture outfit for Rylie (pics are on Monday, I just hope she smiles) and cleaning up a bit. Tomorrow we'll go to church and hopefully Rylie will stay in the nursery the entire time (pray for us!!). I'm also gearing up and excited about my sisters baby shower next weekend!! We'll get to see lots of friends and family and hopefully get tons of goodies for little Elliot! I hope everyone has a relaxing weekend!